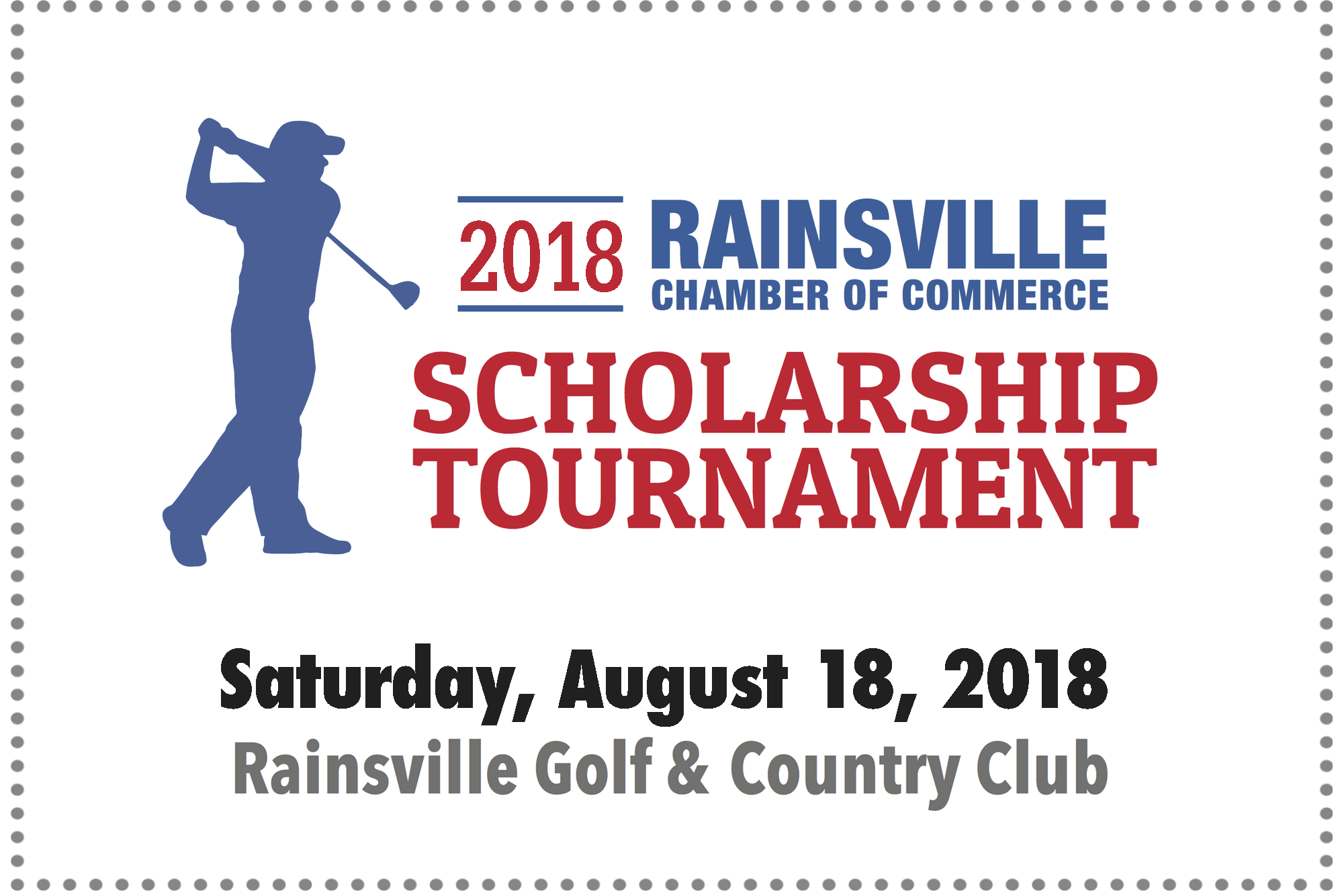 Another successful fundraiser in the books
This summer, community support soared high for the Rainsville Chamber's scholarship program. Through various sponsorships and other contributions, over $14,000 was raised for next year's scholarship program. A big "thank you" goes out to the sponsors, golfers, volunteers, staff, food providers, and others who helped make our sixth annual Scholarship Golf Tournament the most fruitful fundraiser the Chamber has carried out since the 1990s.
Download Team Registration Form
Email completed forms to chamber@farmerstel.com to sign up for a sponsorship or a team.
Thanks to our primary golf tournament sponsors
Thanks to the golfers who competed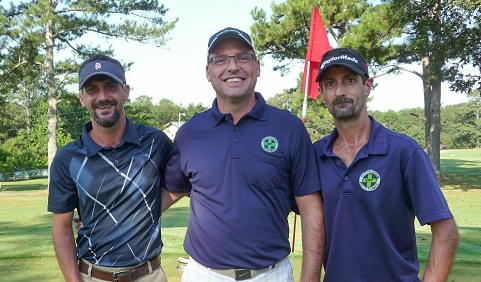 In a real nail biter, the Sparks brothers finished first in the top flight with a score of 53. That's 19 under par for 18 holes.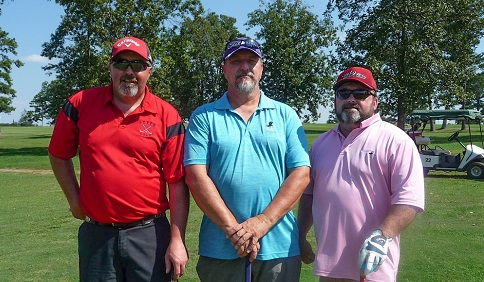 RAINSVILLE–Saturday, August 19, 2017–Skillfully navigating a combination of narrow, long-rolling fairways, lush-but-slow putting surfaces, best-ball tournament best practices, and well-timed and complete usage of their deluxe mulligan tickets, six teams scored under 60 on the par 72 Rainsville golf course.
With only one stroke separating each of the first five places on the final leader board, the Sparks brothers, Team Horton and the team led by long-drive contest winner Jon Hicks finished first, second and third, respectively, in the top flight. Lamar Ellis' team, Team Foodland, and Jordan Frazier's team took home first, second and third place, respectively, in the second flight.
Four prizes were awarded in contests of skill. Mike Burt won a dozen new Titleist Pro V-1s for closest to the pin, which was held on hole number six, narrowly missing out on a $1,000 hole-in-one prize as his closest-to-the-pin winner stopped about 6.75 inches from the hole. As mentioned above, Jon Hicks won the long drive contest on hole number five. His prize, two dozen Callaway XDs. Gerry Wood won a dozen balls for making the longest putt, a contest held on hole number seven. Lamar Ellis won a bucket of Nike balls in the "closest-to-the-guinea-tree" contest.
"Thank you" golfers. We can't thank you enough for coming out this year.
Meals and HOLE SPONSORS
A big "THANK YOU" goes to the following supporters:
McDonalds
Little James Bar-B-Que
Hole sponsors:
Alacare
Dr John Anderson
Andrew Hairston for Circuit Judge
Dr Marvin Barron
Bejan Taheri, City Councilman
Brandon Freeman, City Councilman
Boykin Tractor
CP Auto Parts
Cable Time
Carpet Center
Colormasters
Dawson Accounting
Decker Clinic
DeKalb County Sheriff's Office-
Jimmy Harris
DeKalb Farmers Co-op
DeSoto Printing
Dewitt Jackson, County Commissioner
Duke's Body Shop
First Fidelity Bank
First Southern State Bank
Glover Cabinets
Holiday Inn Express
Huntingdon College at NACC
IHS Pharmacy
Jimmy Traylor Construction
Johnson Lumber Co.
Kelly's Kitchen
Laney Electric
Melissa Ledbetter for Circuit Clerk
Monarch Carpet
Monk Blevins for Board of Education
Mountain Valley News
Nathaniel Ledbetter, State Representative
Northeast Alabama Community College
OxyMed
Polyvance
Rainsville Chiropractic
Medicine
Rainsville Civitan Club
Rainsville Drugs
Ricky Byrum, City Councilman
Roger Lingerfelt, Mayor
Rainsville Church Pew
Rainsville Funeral Home
S & S Wholesale
Sand Mountain Electric Cooperative
Scott Lloyd for Circuit Judge
Senator Steve Livingston
Shankles & Gray Collision
Southern Torch
The Spa:
Massage Therapy by Emily
State Farm Insurance
TheraSport
Times-Journal
Tuxedo Headquarters at Merle Norman
Vicki's Flowers & Gifts
Vision Plus Eye Care
WZOB
Dr Emily K White, Chiropractor
Wilborn's Speedy Lube
WinSouth Credit Union
WordSouth
Check back for an updated page.